…Whatever Song She Chooses To Conquer…
Artist: Deborah E
Album: Albumette
Review by Kelly O'Neil
Lots of stereotypes surround redheads, including that they are sassy, snobby and will steal your boyfriend. Whether or not those trivialities hold true, what can be said about one particular Los Angeles-based redhead is that she commands attention. Deborah E possesses an incredible deep-throated voice that obeys whatever direction she tells it to go. Her singing style is captivating and mature without losing itself in a quandary of sentimental emotions
Heralding not only jazz but Broadway and soul influences, Lady D, as she is affectionately called, exhibits a wide array of equally enrapturing vocal styles. She opens her EP Albumette with Paul Francis Webster and Sonny Burke's standard "Black Coffee," scantily crawling around in her lower register. Each syllable is as rich and dark as the title suggests. Every vocal turn is impeccably smooth, perfectly timed and expertly handled.
Deborah performs a credible cover of the unassuming masterpiece "Killing Me Softly," first done by Roberta Flack and later by The Fugees. The tempo may be a hair too fast, but the well-known ballad plays out predictably. Deborah sings more upright and straight than in the jazz numbers where her voice is covered in a mysterious sultry shroud. The acoustic guitar player adds wonderful embellishments from the line "Strumming my pain with his fingers," to the tasteful bridge solo over subtle strings. "Perfectly Wonderful World" opens with a nice piano and string duet. Deborah is singing at her highest and most crystalline yet in this happy ballad. The first half of the bridge loses energy with her soprano musings that are scarcely heard above the instruments. In the second half the piano comes to the fore with a droll tinkling solo with light drum and string accompaniment.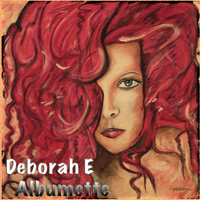 A dynamic aspect of Albumette is the recording quality. With a slight echo resounding from the vocals it sounds as if the album were recorded live and thus inviting a more intimate aural experience for the listener. "Just Say When" adds to this quality with its perky upbeat vibe. The song is in a higher vocal range resulting in clearer enunciation. Deborah has collaborated with a phenomenal group of musicians, notably the saxophonist in this tune. His tone is not obnoxiously bright, and not too mellow either, creating a nice blend with the vocals. The extended coda featuring a dialogue between the saxophone and the organ is a treat worth mentioning.
The big production number and grand finale to Albumette is "Only Temporary." This rocking number has empowering vocal breaks between heavy downbeats as Deborah mockingly sings tongue-in-cheek about her cruddy job and crummy boyfriend but then positively belts out that both of these misfortunes are "only temporary." The walking blues line in the bridge is the perfect backdrop for an awesome growling saxophone duet giving way to the thrilling electric guitar. The song remains surprisingly upbeat despite, "Sometimes this life may get a little scary / But it's only temporary." It is a fantastic sentiment coupled with an infectious groove. The saxophone leads into a formidable jam that begins in the same call and response as the opening. Then he cuts loose running up and down the full range of the horn, even jumping effortlessly into the altissimo range. The electric guitar joins in with a slight overdrive effect taking the song out.
Lady D and her band mates are exceptionally talented musicians and have chosen a fantastic collection of songs to best showcase their gifts on Albumette. Deborah has an awesome vocal range and easily wraps her voice around whatever song she chooses to conquer.
Review by Kelly O'Neil